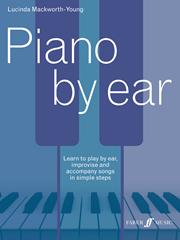 Finalist in the Best Print Resource category at the Music Teacher Awards for Excellence, 2016, Piano by Ear Learn to play by ear, improvise and accompany songs in simple stepsis aimed at helping classically trained teachers, students and pupils play without notation, spontaneously, wherever there's a piano. It also provides useful training for Practical Musicianship and Jazz Piano exams.
 "Whoever thought playing by ear could be this much fun?,"Improvising made easy","A must for all piano teachers,"Really useful for singing teachers,"Happy Birthday de-mystified!".
Available from your local music retailer, or http://www.fabermusicstore.com/Piano-by-Ear-0571539025.aspx, or Amazon -and see the amazing reviews there.
Stunning reviews also at http://pianodao.com/2015/09/01/lucinda-mackworth-young-piano-by-ear/  
WATCH the VIDEO CLIPS: 
 1. Basic Skills for Really Useful Piano Playing at home, in schools or communities with examples from Piano by Ear published by the Musicians' Union in Allaboutpiano.
 2. Three clips, with supporting text and printable scores, published by Informance, The Online Academy. (Three further clips in this series are due out soon: The Twelve Bar Blues, Improvising with Secondary Chords, and Improvising inspired by your current piece.)  
Understanding chords, grand arpeggios and how to harmonise
Easy improvising with the white-note modes and other exotic scales
 3. Ideas for helping your pupils to pass the Trinity College, London, piano improvising option
Click here to read more about Lucinda's background and approach in conversation with Graham Fitch 
If you have any questions, or would like to share your own playing by ear or improvising, please contact Lucinda or connect via Facebook
www.facebook.com/lucinda.mackworthyoung.piano.by.ear
Thank you!
Related links