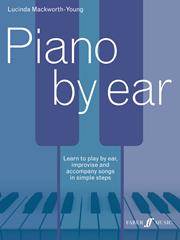 Piano by Ear: Learn to play by ear, improvise and accompany songs in simple steps (with links to practical help and video clips below).
Finalist in the Best Print Resource category at the Music Teacher Awards for Excellence, 2016,  
Piano by Ear, Learn to play by ear, improvise and accompany songs in simple steps is aimed at helping classically trained teachers, students and pupils play without notation, spontaneously, wherever there's a piano. It also provides useful training for Practical Musicianship and Jazz Piano exams.
Buy the Book
Piano by Ear is available from your local music retailer, or buy online at Faber Music Store or Amazon - and see the amazing reviews there too.
Resources to help you with Piano by Ear
Request the pdf of Practical Help and Suggested Chord Progressions for Piano by Ear
If you are a teacher
See pages 122 and 117 and the Solo or group improvising ideas on  pages 15, 42, 64, 77 (my favourite!), and 82, for ideas to begin improvising together with your pupils.
Also, remember that when beginning to teach them to improvise solo (e.g. on pages 13 and 14), teach them to play the left hand first, counting strictly in time, while you demonstrate a very simple right hand improvisation. Then they can try improvising with their right hand, playing simply and naturally mainly up and down, while you play the left hand, before they put hands together. 
Watch the videos 
Piano by Ear 
This video clip demonstrates some of the ideas in Piano by Ear to help get you started. They are taken from pages 13, 14, 32, 33, 28, 29, 80, 73, 77, 111 and 117 (in that order).
For demonstrations by some of Lucinda's students see http://www.lucinda-mackworth-young.co.uk/improvisation
Reviews
"Whoever thought playing by ear could be this much fun?
"Improvising made easy"
"A must for all piano teachers"
"Really useful for singing teachers"
"Happy Birthday de-mystified!"
... More stunning reviews on Pianodao
If you have any questions, or would like to share your own playing by ear or improvising, please contact Lucinda or connect via Facebook
Click here to read more about Lucinda's background and approach in conversation with Graham Fitch 
Thank you!
Related links 
Improvisation | www.classicalfakebooks | Lucinda's Facebook page | Graham Fitch | Practising the Piano interview | Amazon - Piano by ear | Faber- Piano by ear | The Online Academy | Trinity College