Piano lessons for adults - City of London EC4
Lucinda specialises in teaching adults: beginners, re-starters and enthusiasts, to play the music that they love and long to play.
Believing that you have the capacity to achieve the goals that inspire and excite you, she helps you identify your dream as a piano player, and make it a reality.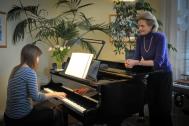 Piano lessons, London EC4R

Recognising that piano players long to be able to play something whenever they pass a piano, she teaches her students to memorise, improvise and play by ear, as well as read notes, so there's always something gorgeous they can play anytime, anywhere.
"Being able to play Happy Birthday, spontaneously, for my friend's 40th (despite a couple of glasses of champagne!), made me feel truly wonderful!" BS Lawyer
With over thirty years of piano teaching experience, classically trained, and with a love of the classics, light music and jazz, Lucinda can help you:
read music
play by ear and improvise
understand theory, form and chord progressions 
develop secure and comfortable technique
interpret authentically and imaginatively
perform regularly in groups, at soirees and formal concerts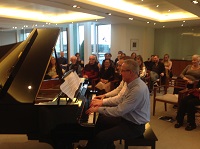 play duets and piano for six hands
take part in Master Classes 
join in the annual residential piano weekend in Norfolk
prepare for Grade exams (classical and jazz), and Diplomas
feel motivated and supported by fellow students
conquer performance anxiety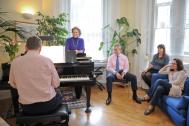 Group Lesson

Lessons are taught individually, but there is the additional option of two or three group lessons per term in which students can meet and play to a supportive and encouraging network of piano friends, sharing ideas, repertoire, and resources. The group lessons also help students develop confidence, and a greater sense of ease and enjoyment, when playing to others. 
"I'm still revelling in the successful `no shaking` playing at my group lesson yesterday. THANK YOU!" KH Teacher
Piano lessons take place in the City of London near Cannon Street, Monument and Bank tubes.
Please email if you would like to arrange an initial lesson to see whether you would like to continue.