An inspirational international lecturer, workshop leader, pianist, psychologist, teacher, writer and consultant, Lucinda's degrees and qualifications include:
MA (Psych of Ed) GTCL (Hons) LTCL (Piano) LTCL (Clarinet), MBPsS, Dip Ed, PGCE, Cert IATE, Cert LSC, Cert SoulTherapy, Registered Healer.
Her experience, training and approach enable her to work holistically with physical, emotional, mental, psychological, imaginative, intuitive and spiritual concepts and strategies. She does this, in relevant and practical ways, for music teaching, learning and performing, and for life and living.
"I help people help themselves, identify their purpose, aims and issues, make connections, add depth, develop strengths and skills, and succeed".
Graduating from Trinity College, London in 1978, Lucinda then gained a PGCE from The Institute of Education, London University and began teaching piano, recorder, clarinet, singing and general music classes in schools and privately.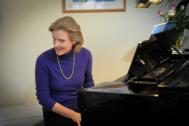 Lucinda Mackworth-Young

In 1984 she returned to the Institute to gain first a Diploma and then a Master's Degree in the Psychology of Education by 1987. The most significant part of this was the action research she did with her own piano pupils, which launched her career in professional development, lecturing and leading workshops nationally and internationally*.
Continuing to develop her work, further certificate courses have included Emotions in Education at The Tavistock Clinic, the Certificate from The London School of Counselling, and the Certificate from The Institute for Arts in Therapy and Education.
Combining insights gained from these courses with her own experience and intuition, Lucinda then began to run courses putting psychology into relevant and practical forms to refresh and inspire music teaching, learning and performing. The latest of these is highly popular week long course Practical Psychology to Inspire and Refresh Instrumental and Vocal Music Teaching, Learning and Performing.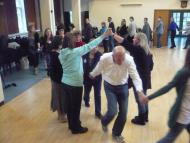 Dancing thread the needle

As a keen dancer who appreciates the value of musicians being taught the dance steps of the dances that they play, she also founded her association, Music, Mind and Movement with Early Dance specialist, Nicola Gaines, and leading Dalcroze specialist, Karin Greenhead in 1995.
in the 1990s, Lucinda was invited to provide course work for the leading professional development courses run by the Associated Board, the Incorporated Society of Musicians and the European Piano Teacher's Association, and in 2008 she was appointed Director of The Piano Teachers' Course UK- the UK's leading professional development course solely for piano teachers.
A prolific writer, she has had many articles and chapters published in Rhinegold, Faber and ABRSM publications as well as in numerous music teaching magazines and journals.
Her highly successful and readable book: TUNING IN: Practical Psychology for Musicians came out in 2001.
And her book, Piano by Ear, published by Faber Music in 2015, was shortlisted for the Music Teachers Awards for Excellence, 2016.
As a pianist Lucinda continues to give concerts with a variety of fellow musicians, and specialises in repertoire suitable for private parties and fundraising events.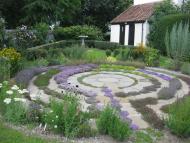 Labryinth

Following further training in subtle energy and healing, Lucinda now practices in complementary medicine working with physical, emotional and mental health, and spirituality. She gives workshops teaching feet-on-the-ground spiritual principles in relevant and practical ways for life and living, and she works with clients individually.
She is a member of The British Psychological Society, The Society for Education, Music and Psychology Research, The Incorporated Society of Musicians, The European Piano Teachers' Association and The Complementary and Natural Healthcare Council
* Including for The Associated Board of the Royal Schools of Music, The Birmingham Conservatoire, The Clarinet and Saxophone Society, The Colchester Institute, County Music Services, The European Guitar Teachers' Association, The European Piano Teachers' Association, The European Recorder Teachers' Association, The European String Teachers' Association, The Guildhall School of Music and Drama, The Incorporated Society of Musicians, In-service Teacher Training, The Music Masters and Mistresses Association, Reading University, The Royal Academy of Music, The Royal College of Music, The Royal Northern College of Music, Trinity College of Music etc. Internationally, Lucinda has lectured in The Republic of Ireland, Portugal, Germany, Cyprus, Sweden, Norway, Finland, Malaysia, South Africa, Australia, Canada and the USA.