Deepen techniques, broaden skills and increase teaching confidence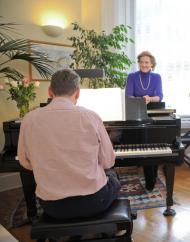 Piano Lessons for piano teachers

Lucinda's piano lessons for adults extend to working with piano teachers, helping them develop their own playing and performing, and general and creative musicianship, in ways which directly benefit their teaching. 
It is surprising how helpful it can be for teachers to work on the repertoire they are teaching, even from the earliest grades. As they learn new ways to deepen their own technique and interpretation, they become more secure and confident in both their teaching and their performing. 
"I've just had my new advanced adult and am SO pleased that I actually feel I have something to teach her and she is obviously enjoying learning and experiencing new ways of being at the piano. She is already picking up this deeper connection with the keys" AB Piano Teacher
"Your session has been the turning point in my understanding of how to teach repertoire-related improvisation in an accessible way.  Thank you!" JI Piano Teacher
"I have never felt so comfortable performing.There was a time when I felt I didn't have time to practise properly. Now I would say that I don't have the time not to. Learning to practise more effectively has reduced the time it takes me to learn things" DC Piano Teacher
Many teachers are also relieved to discover how easy it is to teach pupils to improvise and play by ear with Lucinda's step-by-step ideas. They also experience the sheer, unexpected fun of being able to do it themselves. 
Piano lessons take place in the City of London, EC4, near Cannon Street, Monument and Bank tubes.
Please email if you would like to arrange an initial lesson to see whether what I have to offer suits you.