For information on Lucinda's public concert programme please email.
Concerts can also be arranged and performed at a venue of your choice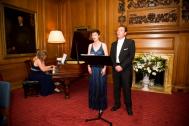 Peter and Lorna

Lucinda specialises in light, entertaining concerts for fundraising events, private functions and parties.  She works regularly with a variety of fellow musicians - singers and instrumentalists.
Wanting primarily to entertain, and also to introduce people to new music, typical concert programmes may include short, immediately appealing pieces or extracts from baroque, classical, romantic, impressionist, twentieth century and contemporary repertoire, both known and relatively unknown.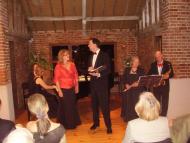 Barns concert, Norfolk

Usually including singers, as well as other instrumentalists, excerpts from operas, operettas and musicals are regular features.
Programmes for private parties are put together in consultation with the hosts, so that they feel special and specifically suited to the occasion.
"What a superb concert that was. We both thoroughly enjoyed spending our Sunday afternoon in such a splendid setting listening to wonderful music" TH Actor
"Your audience loved it all, every single guest has written or telephoned to say how much they enjoyed your performances. In fact they were in raptures! Everyone also appreciated that the programme was chosen so carefully for the venue…. Thank you again for making it all such a happy day and such a treat" DH Lawyer
Concerts take place at a venue of your choice.
Venues have included stately homes, priories and churches, livery companies, private clubs, halls and drawing rooms all over the UK, but mainly in the City of London and Norfolk.
Please email with your enquiry.